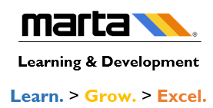 Class Registration for
Professional Development and Technology Courses
Please register by email including the following information.
Your first and last names
Your MARTA Employee I.D. Number
Class Title, date and time
A contact phone number
An email address (MARTA or other) where we can reach you
Please note we cannot register you without all of this information!

Please address a separate email for each class to...
and include the name of the class in the subject line.

Click here to return to training calendar homepage
Click here to return to MARTAnet homepage